Promote Your Art Program!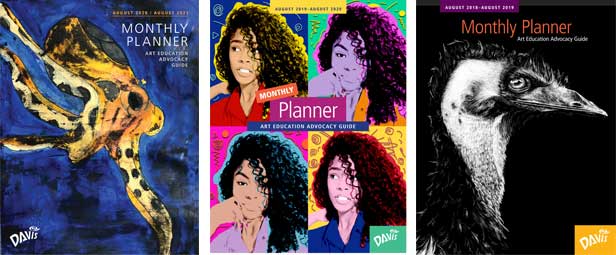 Wouldn't your students love to see their artwork as the cover of our Art Advocacy Monthly Planner? We would! Show off the wonderful art that your students are creating!
Each year, Davis Publications creates a planning calendar full of artist birthdays, holidays, quotes, and advocacy. In 2020–2021, our cover will showcase student artwork that reflects on celebration. Please see the following regulations and instructions to submit your student art for consideration.
Participants: All students — Elementary through High School
Theme/Focus: Artwork that reflects on how we celebrate important people, places, and events.
Deadline: November 1st, 2020
Rules and Eligibility:
Entrants must attend an accredited public or private elementary, middle, or high school. Independently-run, extracurricular art centers are not eligible.
Students' drawings should be no less than 8.5 x 11" at 300 dpi. Note: If chosen as a winner, the original drawing may need to be mailed to the Davis Publications offices in Worcester, Massachusetts.
Artworks may only be submitted by the entrant's art teacher.
Artworks should not contain any copyrighted content or content that could be perceived as offensive, such as nudity and profanity.
Supervising art teachers should submit a digital file (JPEG, TIFF, or PDF) of their finalists' work using this form.
Each submission must include a signed artwork reproduction permission form. You can download one here.
Entries that do not adhere to the above guidelines can not be accepted.
Judging:
Images will be selected by Davis Publications' Art Director Julia Wade. Entries will be judged based on overall impact and originality.
Questions?
Contact Julia Wade at JuliaWade@DavisArt.com.