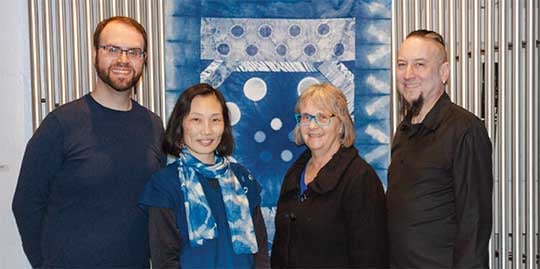 Left to right: Julian Davis Wade (President), Mihoko Wabayashi (fiber artist), Erika Davis Wade (Davis Board Member and co-curator of the Davis Art Gallery), and Karl Cole (Curator of Images and co-curator of the Davis Art Gallery) during the Entrance to Indigo gallery opening at the Davis Art Gallery.
President's Letter: Art Unites Us!
Every weekday morning, 25 people find their way to The Printers Building in downtown Worcester, Massachusetts, climb the stairs to the Davis offices, and get to work. Some walk a couple of blocks to get there; others drive for an hour or more. Some are just out of college; some have children in college. There are women and men, vegans and carnivores, cufflinks and piercings, dyed hair and gray hair, high heels and sneakers—in other words, there's plenty of diversity here. But there's also unity. Unity of purpose, unity of belief, unity of commitment. What's at the heart of it? Art.
If you're a teacher, you know all about the power of art. It breaks down barriers, creates communal spaces, shapes emotions, fuels innovation. It gives voices to individuals and brings whole communities together. When you reveal the rich relationships between art and the rest of the curriculum, you offer students ways to unify what they're learning, and that helps unify their school experience and their vision of the world.
Our 2017 catalog is full of tools designed to help you connect what you teach to the dynamic, swiftly-changing world your students live in:
Check out the brand-new expanded edition of Focus on Photography, which includes two all-new chapters that introduce students to the basics and challenges of commercial photography as a career choice.
Connect the amazing power of visual imagery to the magic of words with Discussions4Learning, our oral language program—now available in both English and Spanish formats, along with large portfolios of images.
Find new ways to integrate drawing and writing skills with Envisioning Writing.
Discover the unique effectiveness of the Reggio Emilia approach in Documenting Children's Meaning.
So dive in. You're sure to find what you need to make art a unifying force in your classroom, your school, your community, and the wider world.
Julian Davis Wade, President